Trinity Western University Residence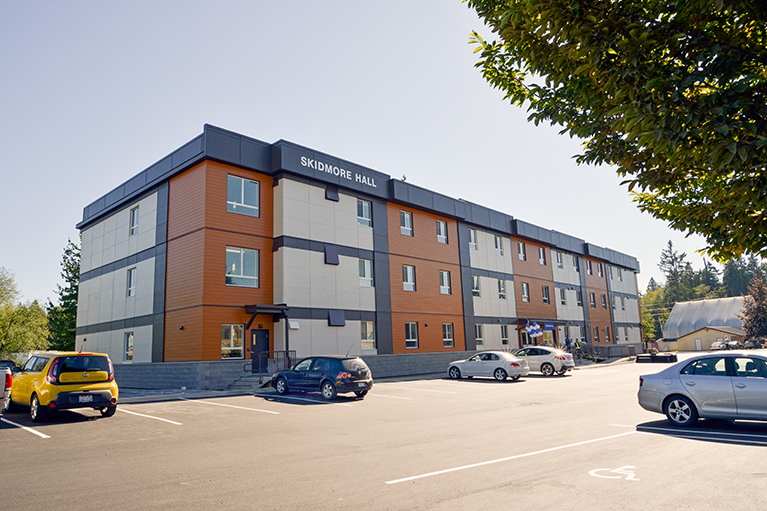 atco builds new housing complex for 132 student in Langley, B.C.
Ask anyone who has been to college what the most memorable aspect of it was, and they'd likely tell you that it was the student life: the new friends, the people in the same dorm, the meal plans, the quirks of the buildings, the rumours and legends, all of it. The academic program is incredibly important, but the time outside the classroom is what makes the memories and the experience.
To many first-year students heading to university, much of that experience comes from living in residence, their first home away from home where they get their first taste of independence and adulthood. And for 132 students at Trinity Western University in Langley, British Columbia, that experience will be set in the new Skidmore Hall, which opened in early September 2017. 
Known for its sense of community on campus—receiving an A+ rating from the Globe and Mail in 2011—Trinity Western University requires its first and second year students to live in residence unless they live at home.
As the perfect backdrop for students' development, the newly opened three-storey complex was designed closely with the school's administration, including those who manage student life. Not only does the 47-modular unit, 33,000 sq. ft. complex accommodate the increased enrollment at the university, it helps students develop lasting relationship, and takes into consideration the different points of interaction, right down to students' morning routines.

Divided between apartment-style suites for third and fourth year students, and room-and-board dual-occupancy bedrooms for first and second year students, the building contains many features that help students adjust to life with multiple roommates, one of which is the individually enclosed bathroom facilities that allow students to use the toilet, shower and sink separately and simultaneously. Another detail that was incorporated was storage. As students arrive with their essentials and comforts from home, we included extra storage for their suitcases and belongings.
The suites feature a kitchen and common lounge area within each suite, giving senior students additional privacy. The room-and-board rooms house four people per suite, two per bedroom, which offer newer students a chance to get to know one another. Moreover, common areas such as the lounge, gathering spaces, shared laundry and common kitchenette all encourage communication between students.
Maximizing the advantages of modular construction, Skidmore Hall was built within only nine months, an extremely efficient timeline compared to the 12 to 14 months it would take for traditional stick-build construction. Because the units were manufactured in a controlled environment, and installed on site over the summer, impact on the campus was minimized. Double walls and ceilings provide additional soundproofing that dampen the noise from nearby train tracks.

Best of all, functionality was achieved at no cost to esthetics. Blues and neutral tones reflect West Coast style and sensibilities, 9-foot ceilings create a more spacious and open feel, and exposed wood, columns and beams give way to a natural atmosphere.

Not only are the building features within Skidmore Hall reflective of the university's collaborative ethos, the sense of community was evident through every phase of the project, from working together with different divisions within our own business to develop the power infrastructure to getting Trinity Western student volunteers on board with cleaning and putting on the final touches.

More than just nuts and bolts, the new residence at Trinity Western University embodies the community spirit at the university and will be the setting of stories for years to come.