Every hero should have a home
Every hero should have a home.
Our journey to Evansdale, AB starts with Andy Ostrowski, ATCO Structures.
To help provide a safe place to transition back into civilian life, we partnered with Homes For Heroes Foundation to build a tiny home village for veterans experiencing homelessness in Edmonton.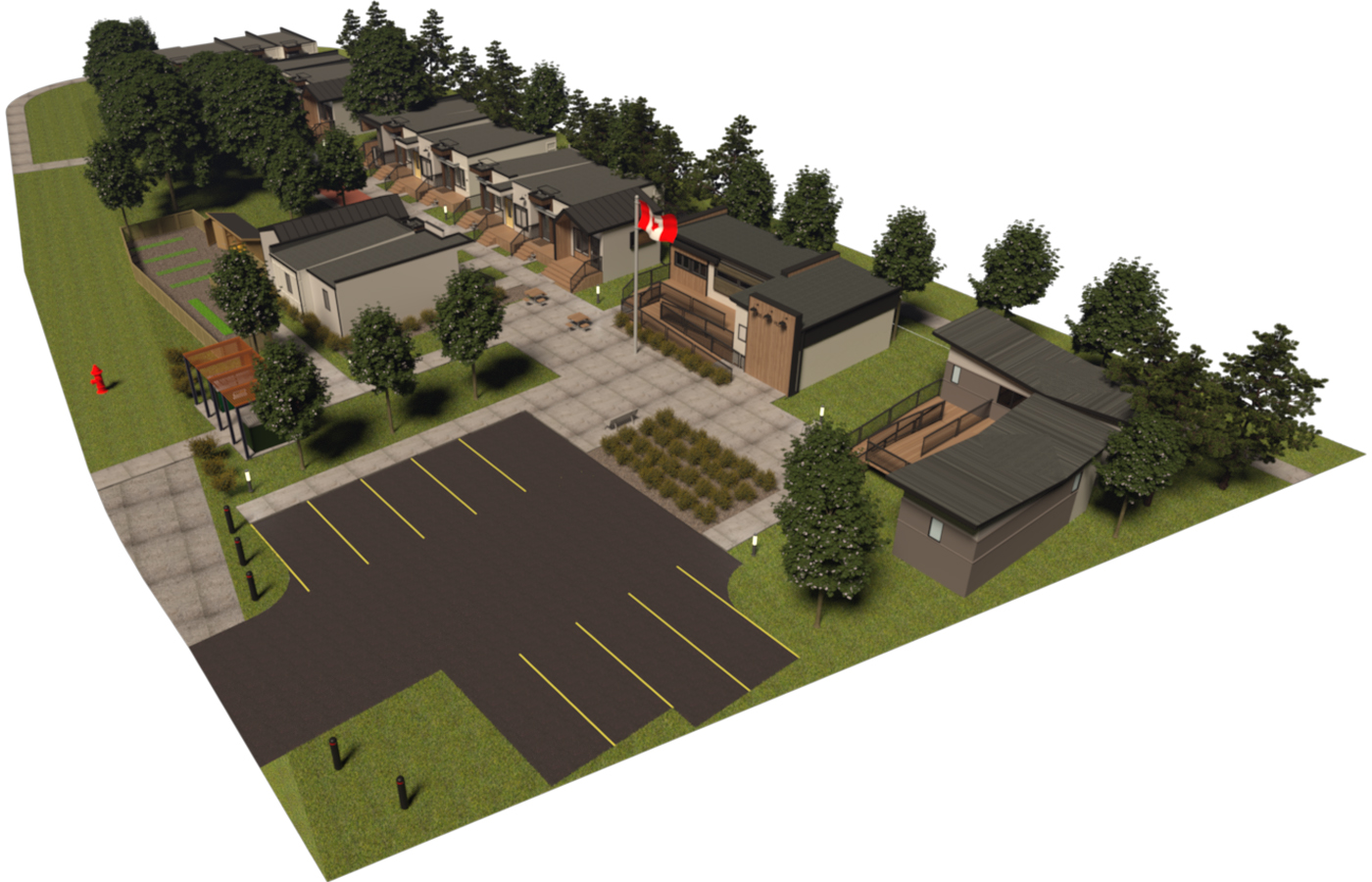 ATCO and Homes For Heroes Foundation break ground in Edmonton
Marking an exciting new chapter in our partnership with the Homes For Heroes Foundation​, shovels hit the ground today to build the new ATCO village in the community of Evansdale in Edmonton, Alberta. Building upon the success of Calgary's ATCO Village​, ATCO's Structures division is providing its expertise on the design, manufacturing, transportation and placement of the new village, which will help veterans on the path to homelessness find a safe place to land and heal.
"The women and men who serve in Canada's military give so much on our country's behalf and deserve our community's support–especially in their post-service years," says Nancy Southern, Chair & Chief Executive Officer, ATCO.​ "We have a long history of working closely with our military and the people of ATCO are humbled to be part of a community-driven approach to support our heroes and remind them that their contributions are not forgotten."
Scheduled to open this fall, the village consists of 18 tiny homes – approximately 300 sq. ft each – two accessible homes, one office and one amenity building.
Congratulations to everyone involved in this important project.
ATCO Village: Calgary, Alberta
In November 2019 we leveraged our expertise in modular housing to build ATCO Village, a community of 15 tiny homes in Calgary for veterans of the Canadian Armed Forces.
Building upon our long and proud history of supporting the Canadian military, we partnered with the Homes For Heroes Foundation, the McCann Family Foundation and the Canadian Legacy Project to provide housing and a robust support system for veterans who are experiencing homelessness. The community formed by these homes features a resource centre, community gardens and memorials to Canadian soldiers who lost their lives in Afghanistan.
ATCO provided our expertise in the design, build, manufacture, delivery and placement of units on ATCO-supplied pile foundations. These tiny homes showcase ATCO's urban design capabilities and will provide a home our military heroes will be proud to call their own – a small gesture when measured against their herculean sacrifice. In total, we have committed a $1.5 million gift-in-kind donation to support the Homes For Heroes Foundation.
Snapshot
Date: Occupancy - November 2019
Location: Calgary, AB, Canada
Client: Homes For Heroes Foundation
Square Footage: ~300 sq.ft. per unit
Units: 15 units and a campus
Features: Full kitchen and bathroom, queen-size bed/couch
Category: Tiny Homes
A Very Merry Veterans Thank You - ATCO Christmas
On Sunday, November 22, 2020, we celebrated ATCO Village's one-year anniversary with a festive light display for the Village's veteran residents, complete with an ATCO employee drive-by to show our support and thanks.

While extending a thank you to veterans during these challenging times is important, we also hoped to bring some cheer to all Calgarians, who were invited to enjoy the light display throughout the holiday season, while maintaining social distance.
As an added holiday gift, ATCO matched $100,000 in donations made to Homes For Heroes Foundation in December 2020. This Foundation was developed in response to the growing number of military veterans who are facing crisis as they return to civilian life and find themselves on the path to homelessness.